Today's Marlins news roundup also includes an extended interview with Bryan Hoeing.
Wednesday's Games
Marlins Podcast Episodes
---
Wednesday's Marlins MiLB notes: Pensacola clinched the Southern League's first-half South division title (and celebrated accordingly). The league's defending champions are now guaranteed a 2023 playoff berth. Evan Fitterer (5.0 IP, 1 H, 1 ER, 3 BB, 8 K, 1 HR) kept the Blue Wahoos close enough to mount a late-inning comeback. Jupiter outscored St. Lucie 20-2 during their doubleheader sweep. Javier Sanoja compiled five hits and five RBIs. Torin Montgomery is now slashing .321/.471/.440 and is clearly overqualified for Low-A competition. Rehabbing Zach McCambley has yet to allow a hit through five relief appearances (6.1 IP).
As Alex Carver announced, Fish on the Farm and Fish On First have begun an official partnership to cover the Marlins farm system more comprehensively than ever before. Follow the @marlinsminors Twitter account if you don't already. All of Alex's previous FOTF articles have been imported to our new Farm section and that's where you will find his written work moving forward.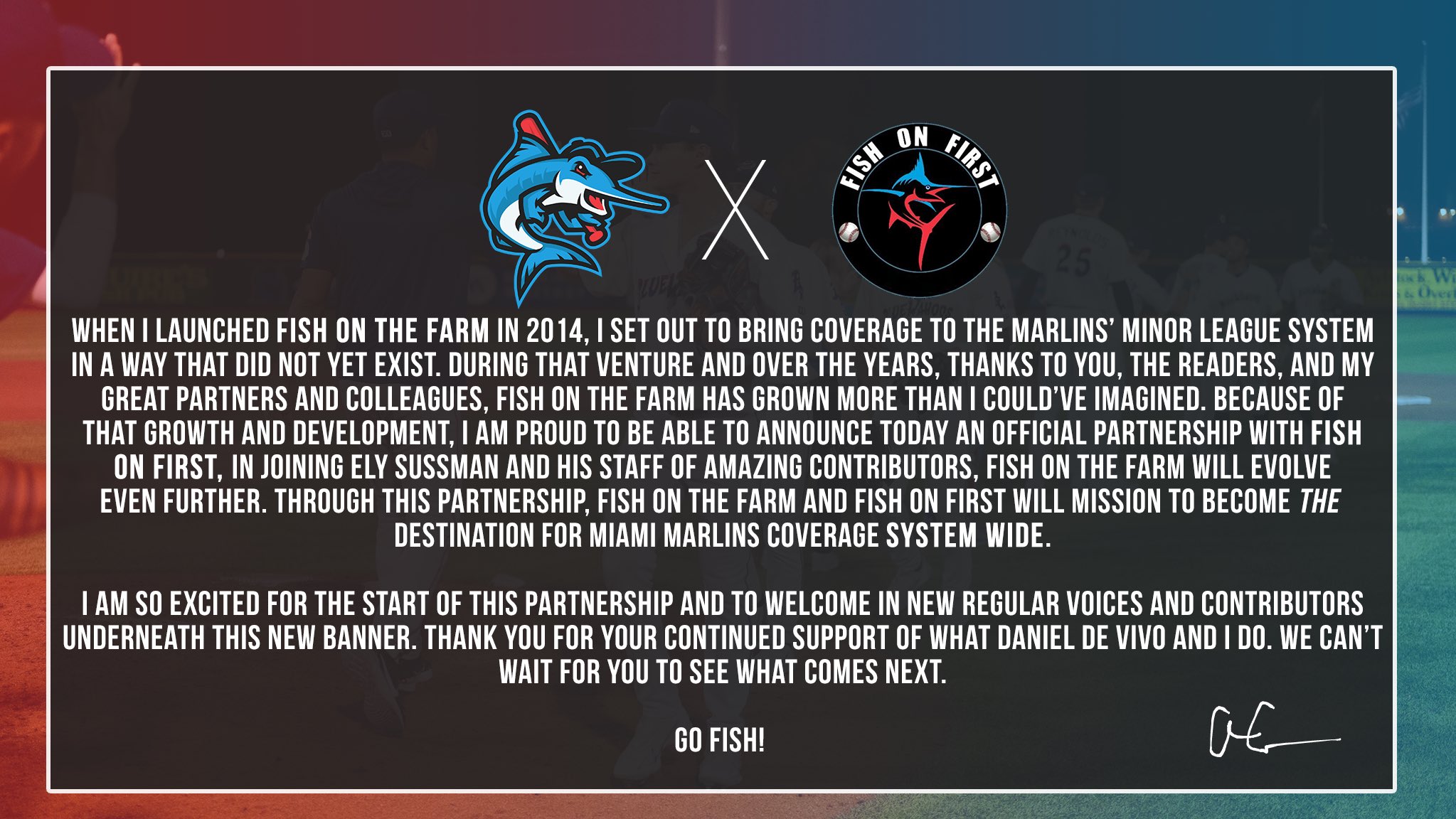 The Marlins grounded into two more double plays on Wednesday, bringing their season total to 82. That's 15 more than any other team and puts them on pace to establish a new modern-era MLB record.
Twelve of our Prediction Time participants (myself included) had the Blue Jays winning precisely two out of three vs. the Marlins. Even in a losing effort, Eury Pérez earned Series MVP honors. Prediction Time is one of the many Super Subscriber perks.
Elsewhere around the majors, the Reds and the Giants both did it again. Their winning streaks have reached 11 games and 10 games, respectively. Highly touted right-hander Gavin Williams had an uneven major league debut (5.2 IP, 4 H, 4 ER, 3 BB, 4 K, 1 HR), but the Guardians came back twice against the Athletics to ultimately win.
We've got a new episode of Fish On First LIVE streaming on YouTube/Twitch/Twitter beginning at 5:30 p.m. ET. Special guest: Takes Were Made. Super Subscribers, make your series predictions before first pitch. With chiropractic care and functional health, La Pop takes a preventative approach that optimizes wellness and quality of life for all ages. Find out more here!
The Marlins have a 53.7% chance to win their series opener against the Pirates, per FanGraphs. Low-A Jupiter (6:30 p.m. ET) and DSL Marlins (11:00 a.m. ET) are at home, while Triple-A Jacksonville (doubleheader beginning at 5:05 p.m. ET), Double-A Pensacola (doubleheader beginning at 5:30 p.m. ET), High-A Beloit (7:35 p.m. ET) and DSL Miami (11:00 a.m. ET) are on the road.
Daily Luis Arraez batting average update: he enters today at .398. Arraez has never faced Pittsburgh's Mitch Keller before. Additionally, Arraez is hitting .430 in home games this season and .390 in night games.
Bryan Hoeing is the latest guest on Noah Berger's What a Relief podcast show (yes, we realize he's currently being used as a starter, but whatever). Hoeing takes us through his lifelong love of baseball, the impact of pitching coach Mel Stottlemyre Jr. and catcher Nick Fortes, his improvement from 2022 to 2023, adapting to the pitch clock and more.
Pensacola broadcaster Erik Bremer will be my guest on the next episode of The Offishial Show. If you have any questions for him about players on the Blue Wahoos or the minor league lifestyle, comment below.
On this day 25 years ago, the Marlins and then-Devil Rays met in the first-ever Citrus Series game. The Marlins won in 12 innings.
Happy 26th birthday to Troy Johnston. Since being drafted in 2019, Johnston leads all Marlins minor leaguers in doubles (79) and runs batted in (224). The lefty-swinging first baseman has already established a new career high with 10 stolen bases this season (and he hasn't been caught once).